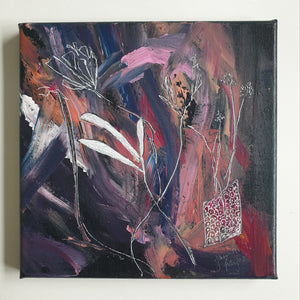 Jacinta Payne Art
Wild Flowers 4
Regular price
$50.00
Sale price
$65.00
Unit price
per
I love all the tiny wildflowers that seem to survive in the most unlikely situations. In rock crevices on a cliff, on a dry embankment in full sun, or in deep shade in the bush. Diverse species, some delicate, all resilient.  They seem to pop up in the same places at the same time each year. 
This series is a visual ode to all the wild flowers, both floral and human, their presence hauntingly beautiful, and they're tougher than they may seem.
The canvases used in this series have been repurposed from canvases found in an op shop. I love to recycle and give new life to something, creating a piece that is joyous and keeping with my mission of being kind to the earth. 
An original abstract art work, painted using artist quality acrylic paint. 
Unframed, the back is fitted with a bracket or wire for hanging on the wall.
20 x 20cm x 2cm deep
*If you would like to purchase multiple paintings in this series, they will be discounted to $50 each for 2 or more. Please get in touch with me at jacintapayneart@gmail.com to arrange.
Also if you would like to purchase your painting/s framed, please get in touch with me for a custom quote.  
Free shipping within Australia.
Thank you for stopping by, have a wonderful day! 😊
---