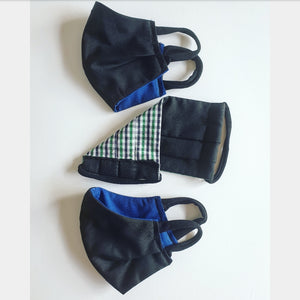 Minnie&Lou
Back to school reusable Face Mask set
Regular price
$40.00
Sale price
$60.00
Unit price
per
Back to school set of 3 triple layer reusable face masks, black outer layer, and colourful (100% pure cotton) face layer.

Made entirely from upcycled fabrics, with strips of stocking for the loops, a comfortable alternative to elastic. 
Set contains 2 of our curved / shaped masks, plus 1 pleated mask so you can try both types.

We have had lots of feedback that ours are the most comfortable masks that our customers have tried - read on for more information on why!

Black masks with colourful backing (face) layer, selected from our upcycled fabric collection. It might be blue, or checkered or dotty, but is always 100% cotton against the face. Made from fabrics we have collected from our thrift shopping adventures over the years, like table cloths, beach dresses, shirts etc. Freshly laundered before any upcycling begins! Always cotton so you have a soft, natural, breathable layer against your face.

Free postage within Australia for orders over $100

***Our face masks are currently sold out, however we are regularly making more so do get in touch if you would like to enquire about pre-ordering. They sell out quickly, so pre-orders are advised.
---