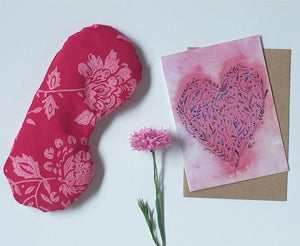 Minnie&Lou
Relaxation / Meditation / Yoga ~ Weighted Eye Pillow & Gift Card
Regular price
$28.00
Sale price
$30.00
Unit price
per
Enhance your relaxation, meditation or yoga practice with a gentle weight on your eyes, using a natural flax filled eye pillow.
Shaped to fit snuggly into the hollows of the eyes, the weight of the flax reduces REM, helping you to relax, de-stress and deepen your meditative state. Calm an overactive mind to induce sleep.
Handmade in small batches in our sustainable home studio in Melbourne's east, Minnie&Lou relaxation eye masks are filled with flax seeds, and have a removable, washable cover.  
Both the inner bag and cover are 100% cotton, made using upcycled fabrics from our curated collection of thrift shop garments. All freshly laundered of course before any snipping or sewing begins!
Perfect for an eco friendly gift, or to treat yourself. Comes with a beautiful 'floral heart' greeting card, printed on 100% recycled card stock. 
Can be used as is, or heated or cooled as desired. 


*We use flax seeds for our eye pillows as they are small, a nice weight, yet they retain heat/cold beautifully. 15-20 seconds in the microwave or a couple of hours in the freezer. 
---